ANCIENT SRI LANKA
Experience the ancient roots of 7 thrilling nights as you witness the ancient life style & the practice of day to day life in the island like never before.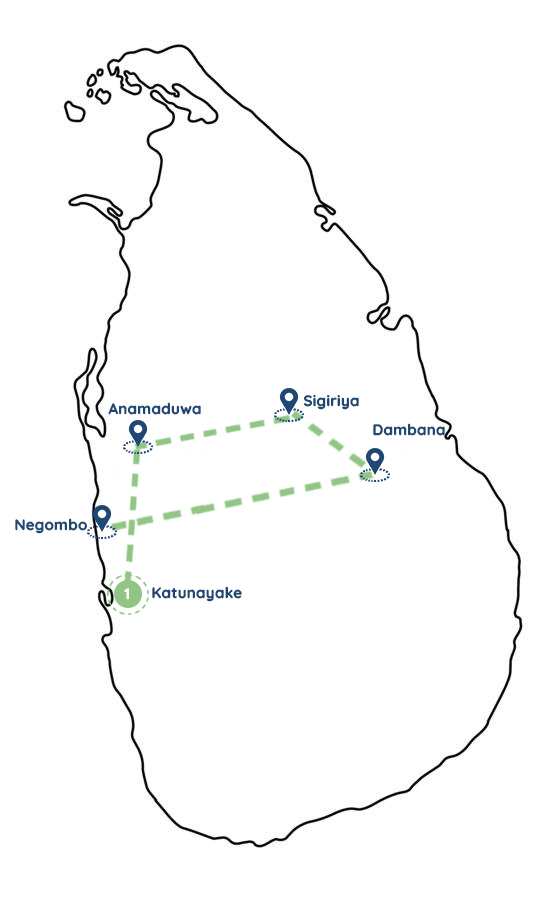 Summery
Embark on journey as you experience the ancient roots of the island where you will feel yourself a step back with the world and experience the peace and the soothing winds of a green life like never before & full fill yourself with pure experience that will draw you back to the olden days of life and glue you to a memorable time.
HIGHLIGHTS
Trip highlights
A step back at the Mud House
Count stars from a Tree House
A peaceful village
A Bullock cart ride
A Historical Woodcarving
INCLUSIONS
What's included
Mentioned excursions entrance
A Chaffer driven sedan car
Accommodation as per final confirmation
All entrance as per the itinerary
Water Bottles
An unforgettable trip with a positive impact
Created to maximize the benefits to people and place, while minimizing the environmental footprint.

COMMUNITY & CULTURE
Sourcing resources from the local community to empower and uplift their lives is our utmost priority

CONSERVATION
Supporting environment conservation projects joining hand in hand with many partners in Sri Lanka

FOOTPRINT
While we only leave our footprints behind with our tours, we also go paperless to reduce our carbon footprint
Day 1
Airport / Anamaduwa

As you land at Bandaranayake International airport, you will be transferred to the Mud House in Anamaduwa (Approx. 2.5 hours).
Day 2
Anamaduwa

The authentic stay at the Mudhouse would be a like stepping back in time to your own village within the deep jungle and to a more basic & traditional way of life, where things move at your pace.
Day 3
Anamaduwa / Sigiriya

As the morning falls you will be taken to a Tree House in Sigiriya (Approx. 3.5 hours). This is a semi-permanent tall structure constructed by wood where farmers spend the night time. They take turns to be up during the night to have an eye on their crops which are easy edible targets for wild elephants and other animals. Keeping the "camp fire" alive is also an important duty.
There will be a trek of about 3 hours to get to your Tree House. You wll be passing few jungle patches, chaina cultivations and paddy fields. As you walk, you will be able to observe the real life of the villages in this part of the country.
Day 4
Sigiriya

Embark to Hiriwaduna village & taken on a bullock cart ride through a banana plantation. You can taste and savour the ripe bananas there. You will then be crossing a scenic reservoir in an "oruwa" (traditional boat) to visit a chena cultivation. On your way back, you will be dropping by a local villager's house to enjoy a ginger tea. Afterwards, visit an authentic cottage industry to witness the skillful carving. You could opt to do your own carving to take back home as a token.
Day 5
Sigiriya / Dambana

Visit a woodcarving cottage to witness skillful carving. Afterwards, proceed to to Dambana, the village of the Veddhas – the tribal men of Sri Lanka (Approx. 3 hours).
In the evening you wll be taken to the Veddha village to meet the Chief Veddha.
Day 6
Dambana

Proceed to Veddha village to observe and engage in their day to day activities. The Veddhas will not hesitate to depict to show you the pros and cons of hunting and enact how they set about it. You will be watching them make their traditional bow & arrow- made out of natural material- too would be another interesting activity. In addition to hunting, another important way of catching prey is by setting traps. Out of many such traps, "Habaka" is a simple form used to catch small animals, which they will demonstrate in a very practical way.  Another interesting activity to witness would the extracting honey from a honeycomb from a tree. This activity, which could be very dangerous to a layman, is handled with ease by these men.
Day 7
Dambana / Negombo

Transferre to the colonially important city of Negombo (Approx. 6 hours). You could spend the day at leisure by the beach or do some sightseeing in the area.  You may visit the ruins of the Dutch fort near the lagoon and the St. Mary's church which has very good ceiling paintings by a local artist.
Day 8
Negombo

As you haveyour breakfast, visit the lellama to see the fishermen returning after their fishing trips and the sellers bargaining for fish to be sold in the market.
Depart to the airport (approx. 20 mins) to catch the flight to onward destination