UNTAMED SRI LANKA
Experience the wild life on the island as you spend 12 thrilling nights creating memories & witnessing the wild as you spice up your holiday like never before with pure wild experience like never before.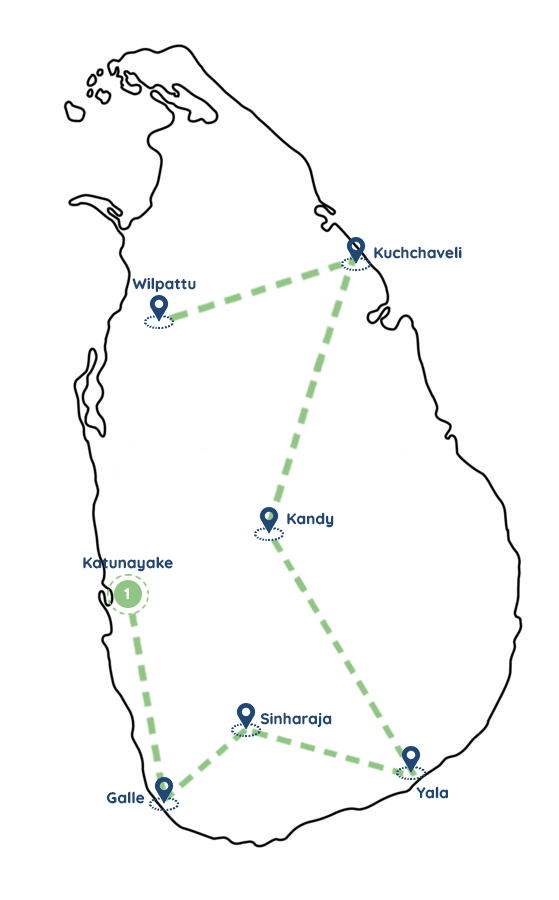 Summery
Embark on a wild holiday and witness the real thrill of the island's apex predators decorated in spots as you travel on rocky paths. Sail to spot the biggest mammals on the planet & to a journey of a life time where memories are crafted to last longer that time.
HIGHLIGHTS
Trip highlights
Breath Green in Sinharaja
Wild encounters in Yala & Wilpattua
Sea breeze with the biggest Mammals
Plunging Spinner Dolphins
Spot the spotted apex predator
INCLUSIONS
What's included
Mentioned excursions entrance
A Chaffer driven sedan car
Accommodation as per final confirmation
All entrance as per the itinerary
Water Bottles
An unforgettable trip with a positive impact
Created to maximize the benefits to people and place, while minimizing the environmental footprint.

COMMUNITY & CULTURE
Sourcing resources from the local community to empower and uplift their lives is our utmost priority

CONSERVATION
Supporting environment conservation projects joining hand in hand with many partners in Sri Lanka

FOOTPRINT
While we only leave our footprints behind with our tours, we also go paperless to reduce our carbon footprint
Day 1
Airport/ Galle

As you arrive at the International airport, you will be transferred to the hotel in Galle (Approx. 2.5 hours).
Day 2
Galle/ Sinharaja

Have your breakfast and visit the Galle fort for some sightseeing. The rich heritage of the Galle fort is derived from the colonial influences of the Portuguese, Dutch and the British respectively, spanning four centuries. Galle was a key harbour city for centuries, hence its value to successive colonial superpowers. The Fort remains a hive of activity and is one of the few World Heritage listed sites in which a bustling population continues to thrive.
Afterwards, head over to Sinharaja (Approx. 2 hours).
Spend the rest of the day at leisure enjoying the hotel facilities.
Day 3
Sinharaja

Today you will be taken to Sinharaja for a full day Sinharaja forest exploration.  The Sinharaja Virgin Rainforest is a world heritage site and is undoubtedly a rich treasure trove of nature with a great diversity of habitats and a vast repository of Sri Lanka's endemic species found nowhere else in the world. Bird watching in this eco system is particularly interesting because it is home to 95%of the endemic birds of Sri Lanka.  It is also a treasure trove to other endemic species, including trees, insects, amphibians, reptiles, birds and mammals.
Day 4
Sinharaja/ Yala

After breakfast at the hotel, you will be taken to the hotel in Yala (Approx. 3 hours). On the way, visit Udawalawe National Park. It is mostly famous for the many elephants that live there (around 400 in total). It is very common to see whole herds of them feeding and bathing or playing in the water. The park is also home to many water buffalo, water monitor lizards, sambar deer, monkeys and the occasional leopard, as well as being an exciting location for bird enthusiasts. Afterwards visit the elephant transit home where closer to 35 baby elephants are being taken of with minimum human interaction, as their mothers have either been killed or lost due to the non-ending human-elephant conflict in Sri lanka.
Day 5
Yala

Enjoy a morning and afternoon safari at Yala National Park. The Yala National Park is mainly famous for its leopards. The best chance to see a leopard is generally first thing in the morning and then again at dusk. The male leopards there are very confident animals and they are often seen walking the tracks during the day. Young males in Particular seem to have no fear of the jeep which can lead to some excellent photographic opportunities. Apart from the leopards, there are a large number of elephants living in the park. Spotted deer, sambar, wild board, wild buffaloes, sloth bear, jackal and mongoose can also be seen. The bird life there too is fantastic.
Day 6
Yala

Visit Bundala National Park for a safari. A total of 383 plant species have been recorded from this park including 6 endemics and 7 species considered as nationally threatened. It is also home to 32 different species of mammals, 5 of which are classified as threatened. The complex wetland system harbors a rich birdlife, including several species of migratory waterfowl. This has led to the declaration of the park as Sri Lanka's first Ramsar wetland – a great internationally importance, especially for waterfowl.
Day 7
Yala/ Kandy

After breakfast at the hotel, you will be taken to the hill capital city, Kandy (Approx. 6 hours). In the afternoon, enjoy some sightseeing in Kandy.  It lies in the midst of hills of rare vegetal species. The Kandy Val ley crosses an area of tropical plantations. The monumental ensemble of Kandy is an example of construction that associates the Royal Palace and the Temple of the Tooth.
Day 8
Kandy/ Kuchchaveli

After breakfast at the hotel, you will be taken to the Eastern coast, Kuchchaveli (Approx. 6 hours).
Spend the afternoon at leisure after the long drive.
Day 9/10
Kuchchaveli

Early in the morning, you will be taken on a whale watching boat excursion. Blue Whales – the largest mammals ever known are residents off the shores of Jungle Beach and Sperm Whales – the largest predators on our planet and also the deepest diving whales travel in pods following the matriarchal system similar to elephants. Off the coast of Sri Lanka, we often encounter "super pods" containing 40 or more along with large numbers of Spinner dolphins.
*You could also opt to visit Pigeon Island for snorkeling or diving. Discover the spectacle of this protected tropical underwater world with over 100 species of colorful corals teeming with 300 types of reef fish, as well as Black Tip reef sharks and a variety of rays and sea turtles.
Day 11
Kuchchaveli/ Wilpattu

Transfer to the campsite in Wilpattu (Approx. 4 hours) and spend the day at leisure.
Day 12
WIlpattu

Enjoy a full day safari at Wilpattu National Park. Declared as a National Park in 1938, the Wilpattu National Park is the largest in the country, covering an extent of 131,694 hectares. Vegetation varies greatly and the transition from thick jungle to open scrubland and windswept dunes of the coastal belt happening within minutes. A unique feature of this Park is that it has a large number of villus (lakes) where you can watch wildlife and many species of birds. Leopards and herds of wild elephant are the most famous animals in this Park. Other sightings you can expect are Spotted Deer, Barking Deer, Wild Boar, Wild Buffalo, Sloth Bear, Mongoose, Crocodile and Peacocks.
Day 13
Wilpattu / Airport
You will be transferred to the airport to catch the flight to onward destination (Approx. 5 hours)